Download Cool Widgets For Android Phones Home screen
There are plenty cool widgets for android phones available on google play stores. By putting some new and old widgets on your home screen you will make your android device more useful and your phone transforms into an additional powerful tool. Why Google's Android mobile OS is different compare to other mobile OS?? The answer is its ability to use home screen "widgets" . These widgets applications will show you short and important information, for more information you have to open those apps.
Now days many famous applications have widgets but not all. Some nice Android apps even provide multiple widgets. Its very easy to manage widgets on android you can drag and put these widgets anywhere on home screen. Following are top 11 widgets for android phones most of that will not price you a dime
Following are 11 Cool Widgets For Android
1Weather widgets give you choice of six different home screen widgets , out of this best one is "1Weather Tabbed" . With this widget, you will get all the essential data of your native forecast, and you can switch between detailed, extended and hourly views of wheather. The looks are additionally customizable, also you can select from dark, light or live weather backgrounds. This app is free, but if you want to remove ad from it, then you will be charged for 1.99$ [Download]
Must Read: How to download paid android apps for free
Maps
This is the widget for Google Maps, using this widget you can get your direction by one click on home sceen. Its very simple to manage this widget just put "Directions" onto your home screen then enter the address which you want to locate and a nickname for particular locations. And specify your mode of direction i.e by driving, biking, walking or by public transport. You don't need to download this widget because it's a part of Google Maps which is preloaded on your Android device. Still if you don't have then click here for Download.
Holo

Bulb
This widget is very easy to use and it serves only 1 purpose and that is for flashlight. Just tap on bulb symbol and it will activate your phone's camera flashlight. And then a handy prompt seems at center screen, thus you can turn it off. So using this you can use your camera flashlight as a torch. [Download Holo Bulb].
Contact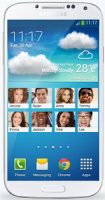 This little widget is very nice for keeping contacts of best and close friends within our reach. after you drop the widget onto your home screen , you then select the contact you wish it to represent. This widget is out there in some kind on most Android devices, however its name and look might vary depending on the device. (for example, in Samsung calls it the "buddies now" and in HTC "person", and offers you many choices.)
Slider Widget – Volume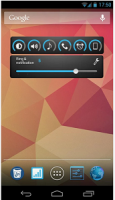 You may assume that pressing your phone's volume button down makes everything quieter, on the other hand you begin enjoying a video and for a few reason it's blaring. That's as a result of completely different functions on Android phones every have their own individual volumes, and you can't unremarkably manage all of them directly while not going into the settings menu. Slider widget provides you larger management over all of your volumes straight from the home screen.[Download Slider Widget- Volume]
Shazam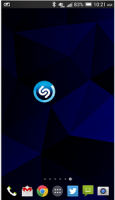 Shazam is the app that identifies songs and television shows or any video as they play. This widget gives you real time lyrics and having the widget on your home screen are often the distinction between with success tagging a song and simply barely missing it. Also, you can preview and buy any tracks which you will like. [Download Shazam from Google Play]
App Dialer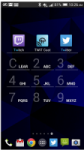 If you are confuse by many apps that you have downloaded. App Dialer will assist you to search and get them quicker. Rather than a typical keyboard search, App Dialer displays a numeric keyboard with every number representing a trio of letters. As you sort, the dialer suggests many apps that match, thus you will easily find them without going through folders. The app is free, if you want to get pro version then it will cost you 3$. [Downloa App Dialer ].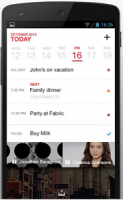 The Play Store is having so many such widgets, several of that are filled with options, like multiple views, sizes and color themes. Ultimately, Cal stuck out as a result of it doesn't attempt to do all of these things. Instead, it acknowledges that what you wish to look at the foremost is your agenda for succeeding few days, which if you wish to examine additional, you will simply open the app. The app additionally supports Exchange and Google Calendar. [Download Cal]
DashClock is a widgets which is display on your phone's lock screen (supports with Android 4.2 or higher). DashClock will show you count of unread messages and e-mails, also battery standing, weather and lots of. This widget gives you your notifications on lock screen. [Download DashClock]
Google Play Widgets
Google's Play store has its own valuable set of widgets that provides you fast access to any or all of your magazines, Play books, music, media. The essential Play Store widget simply launches the store. the Play Recommendations widget suggests content which will be of interest and my favorite Play widget, the My Library , enables you to choose the sort of content you wish on your home screen, like music, books, magazines or movies and television, and so shows clickable album, cowl or movie-poster art.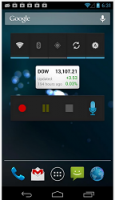 You have to carry a separate voice recorder to conferences and events to capture interviews with sources. To overcome this problem here is Easy Voice Recorder widgets which gives you quickly start and stop recording. This is customizable and you can change its colors. Paid version of this widget gives you so much features like, stereo recording, Bluetooth support. [Download Easy Voice Recorder]
Also read: 9 Best Apps For Android Phone
I hope you liked our post on Download Cool Widgets For Android Home screen – Top 11, if you are facing any problem then please let us know in below comment.
---