How to Hack Facebook Accounts and Protect Yourself From Them
In this article we will discuss How to Hack Facebook Accounts and Protect Yourself From Them. Despite the protection considerations that have troubled Facebook for years, most of the people still connect with their friends and family using Facebook and new members keep on sign up.And if we see statistics Facebook has 1.23 billion monthly active users and 757 million daily active users as of Jan 2014. We share almost everything on Facebook like our anniversaries and birthdays. Also share our locations, vacation plans, births of our sons and daughter it means we share our happiest moments and our most sad thoughts. And in between we forget that who's watching us.
Must Read: How to See Who Visited Your Facebook Profile the Most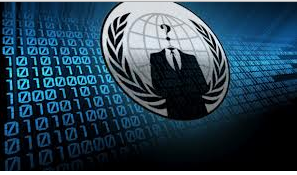 We use Facebook to stay connected with friends and family however, there are some bad people who use this information for malicious purpose. They grasp once we're not home and for the way long we're gone. They grasp the answers to our security queries. That bad people will steal our identities and that is simply with the visible data which we purposely reveal through our public Facebook profile.
You do not even need to be an expert hacker to steal someone's Facebook account. In this article i will show you How to Hack Facebook Accounts by few different ways. Don't worry, I will additionally show you ways to stop it from happening to you.
Follow the methods for How to Hack Facebook Accounts and Protect Yourself From Them
Method 1: Using Keylogger software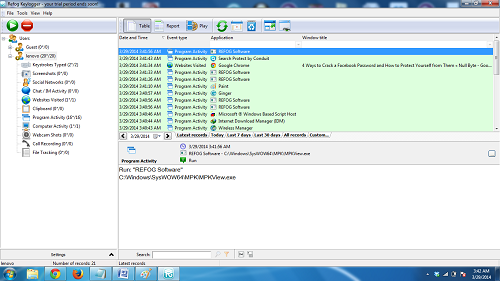 Keylogger is a software program which keeps a record with every stroke on the keyboard that the user makes. The keylogger software has to be downloaded manually on the victim's PC. It will automatically begin capturing keystrokes once the PC is turned on and stay undetected within the background. The keylogger software can be programmed to send you all the keystrokes via email. Click here to download Refog Keylogger which is free or if you want to download any other keylogger, then you can search it on google.
Protect from Keylogger
Keylogger

used internet for sending mails that's why to prevent

it's

use a firewall. It is monitoring your PC's online activity and prevent if any suspicious activity occur.

Install a password manager on your computer because it will help to automatic fill your important information without typing anything.

If still you

dont

feel safe with your

password then

the basic solution is you can change your password

freqvently

.
Method 2: Stealing Cookies
Cookies allows website to save all webdata or website information on computer hard drive and access it later. These Cookies contain websites important data which a hacker can capture it if that hacker and victim are sharing same Wi-Fi connection.Hacker can't steal Id and Password of the victim but they can access the account using Cookies.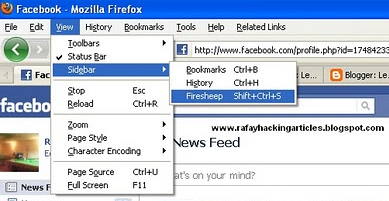 Using Fireship which is a Firefox add-on tool which collects the cookies and save it on another tab of the browser. Using this Cookies hacker can access the victim's Facebook account till the victim logged in.
Protect from Cookies
Go to your Facebook Account setting and make sure that secure browsing is enabled.

Press Ctrl+Shift+P for private browsing mode in Firefox

Everytime

log off your account once you have done
Use only known

Wi

-Fi networks. Don't use Public places networks

Use

VPN
Method 3: Phishing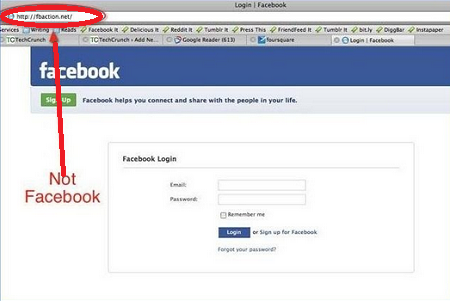 This method is very difficult to use compared to the above methods. But this is also a very common method to hack someone's Facebook account. In phishing method hacker will create a fake login page which is same as original. A Hacker can send this page to the victim via email once victim logs in using the email link, then the information will be sent to the hacker. For this process hacker will need one hosting account and a fake page, that's why it is difficult method.
Protect

from Phishing
Don't click on any email link to log in. Visit official website for login.

Phishing can be done through any website link, using popup ads so don't click on any link which ask you for your login details.

Use a paid/free antivirus like AVG or Avast  Click here for 12 Best Free Antivirus Softwares
General Tips for Protect yourself from hackers
Hide your email address from your profile and use the special email id for your Facebook account
Choose difficult security question rather than pet names, favorite place, favorite food

Always use private browsing mode

Don't show your personal information to all. The less information you share with Facebook, the more difficult to hack your account for hackers
I hope you liked our post on How to Hack Facebook Accounts and Protect Yourself From Them, if you are facing any problem then please let us know in below comment.
---