How To Hide/Remove/Unlist Number From Truecaller App
If you get a call from unknown number and you want to know that person's name we simply use Trucaller to identify the unknown callers. Millions of people use Truecaller to find an unknown caller's name. It doesn't rely on any mobile service operators to spot the numbers. So from where did they get all these callers' names??? The answer is while you install Truecaller on your smartphone trucaller upload your whole contact list on their server and same it will retrieve caller info which keep in their server whereas you explore for the unknown numbers.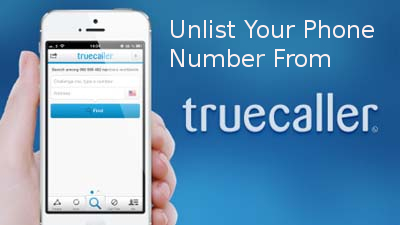 Hide /Remove/Unlist your number from Truecaller directory
On one hand its terribly helpful to spot the person responsible the unknown numbers, whereas going back to the opposite facet, if you inspect someone, an equivalent issue can happen in counter verse anyone will inspect you while using your number.
If by mistake you have called to unknown person, then there is possibility that he will identify you and misuse your identity. In this case the risk factor will increase that unknown person can simply identify you as a result of it displays the location and largely contacts are suffixed or prefixed with some specific name like organization or institute name or one thing else that makes the search straight forward. Therefore, it's better to understand the way to unlist your number from the Truecaller's directory for your privacy reason.
Following are the steps for Hide / Remove/ Unlist your Identity From TrueCaller Directory
Truecaller itself give a choice to unlist your number from its directory. you'll be able to unlist your number from Truecaller in straightforward simple steps.
Step 1: Visit Link
Visit this link http://www.truecaller.com/unlist. You'll direct to the Unlist Page.
Step 2: Enter

your

Number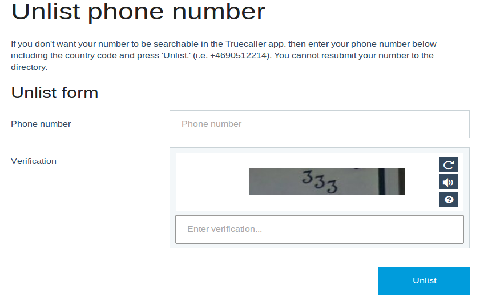 Remove number from truecaller
Enter your number with country

code ex

:

+xxyyyyyyyyyy (xx-country code yyyyyyyyyy – Phone number)
Enter the given verification code
You will Like:  9 best apps for Android Phone
That's all done, your number is unlisted from the Truecaller directory within minutes and sometimes it will take one day to unlist. Now you can check your number in Truecaller directory, it will show the result " No Match Found".
truecaller

unlisted contact
Now your number is unlisted from the Truecaller Database. solely your number is unlisted from the directory and still you will be able to see unknown numbers in Truecaller info.
Add your number back to

Truecaller

List
You can add back your number to the list if you use any smartphone. You will be able to re-list your number by re-verifying. Open the app -> settings -> "3-dot menu" > Deactivate > then verify your number once more and write your name then within twenty four hours your name are going to be updated.
I hope you liked our post on How To Hide/Remove/Unlist Number From Truecaller App, If you are facing any problems then please let us know in below comment.
---