How To Format/Reset Android Phone In 3 Different Ways
Need For Reset/Format
Androids OS is very much popular operating system in the world. Android phones are one among the largest competitors for apple IOS. We all know that why android phones are that much popular. Play store provides thousands of free android apps. However, generally excessive installation of those applications slows down the phone. In this situation you need to reset/format your Android device. But the risk is high behind the formatting and restoring, if you make any mistake during this process then may be your phone can damage. But don't worry today I am going to tell you 3 different ways to reset android phone.
How to Reset an Android Phone
Before starting with formatting or a resetting note that in this process, you will lose all your device data. So before that take a full backup on your computer or SD card. After that remove your memory (SD) card and SIM card from your phone. Charge your mobile's battery up to 50 % level. Following are the 3 ways to Format/Reset Android phone.
1) By Factory Reset setting
Out of all the methods this is the simplest method to reset your android phone. In this process, you will be lost all your important data so before process further backup your entire data. Follow the instruction for a factory reset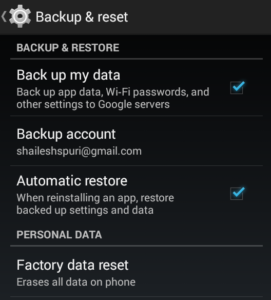 Go to Settings -> Backup and Reset-> Factory reset and then click on Reset phone
(Note: on some devices you will find the factory reset option under privacy settings)
2)

 Using USSD code
Some android phone manufactures like HTC, Samsung provides a Reset code (USSD code) and that is *#7780#. To do this process first backup all your data and then dial *#7780# into your phone and then your android phone will ask you about confirmation.
(Note: some android devices did not ask you about confirmation and the process will start immediately once you dialed the code)
3)

Using system restore
If your android phone gets locked and you forgot the unlock key that time you will unable to use above methods to reset your android phone. So in this situation system restore (Hard reset) will definitely work. To do hard reset you need to press some combination of keys. Follow the steps to hard reset (system restore) your android phone.
Some Hard follows
Volume Up + Home + Power

Volume Down + Power key

Volume Up + Volume Down + Power key

Volume Up + Camera key

Volume Up + Power key

Home + Power key
1) First turn off your android phone
2) For samsung user press Volume up key + Home Key + Power key and after vibration you will see system restore menu as show in below snapshot.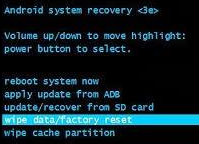 3) Use volume key to up and down and power key to select the option.
4) Now select wipe data/system restore using the power key to reset your android phone.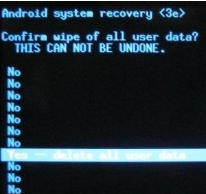 5) Then select "yes" and then select reboot system.
It will take some time to reset your android phone during this process do not remove the battery.
(Note: If none of above hard reset key work with your my (enter your model number)" this into google and search it. )
Using above methods you will able to reset your android phone without any problem. If you will face any problem during this process, then you can ask me any time using below comment box.
---